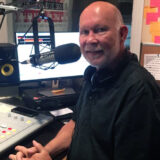 It would help if you hummed "The Long and Winding Road" while you read my bio. Started my radio career in 1980 in Myrtle Beach. First significant job was the lowly "overnight guy" on the once-fabled WKZQ. Over the years, I have worn many hats and dabbled in many formats: Country, Top 40, Jazz, Beach Music, Oldies, Talk radio; you name it, I've tried to do it as best as I knew how. Luckily, after working here at Kirkman Broadcasting for a decade, Gil Kirkman had the confidence in me to build and program a station. It was 1340 The Boardwalk, a Beach Music station, which was only on AM, therefore doomed from the outset.
In 2017, I got another chance and created The City. I wanted to do this Classic Hits format differently from the ones I had heard streaming across the country. Being a lifelong South Carolinian, I felt it was absolutely necessary to fully include all the Soul and R&B hits that had been separated from Rock and Pop over the years. In the summer of 2020, I was called on again to create and program another radio station. The result is Classic Country 98.5.
Bringing it all back home, 98.5 and 1340 AM Classic Country features the biggest hits of the 90's, 80's and a Touch of the Legends. A clear alternative to today's contemporary Country radio. Take a step back in time to a place where the greatest country songs never age out of rotation and off the airwaves. From Garth, Vince, Reba and Dwight to Merle, Waylon, Cash & Jones. They're all right here on Classic 98.5 and 1340 AM, WQSC.